Life
Right on the heel of Italy's boot, on the southern part of the Adriatic coast, lies Trani, a small Italian town, with a beautiful port, that is full of life even in times of Covid. As soon as I arrived seven months ago, I realised that I would feel at home. After a sixteen-hour train journey, I was welcomed by my tutors Fabiola and Savino and my Spanish flatmate and co-volunteer Ainhoa (who, over the time of our stay, became my second family) with a cold but nevertheless good Italian pizza, and in the evening air on the roof terrace, I could already smell the sea… under a starlit night sky… the sound of waves crashing at the coast in the background…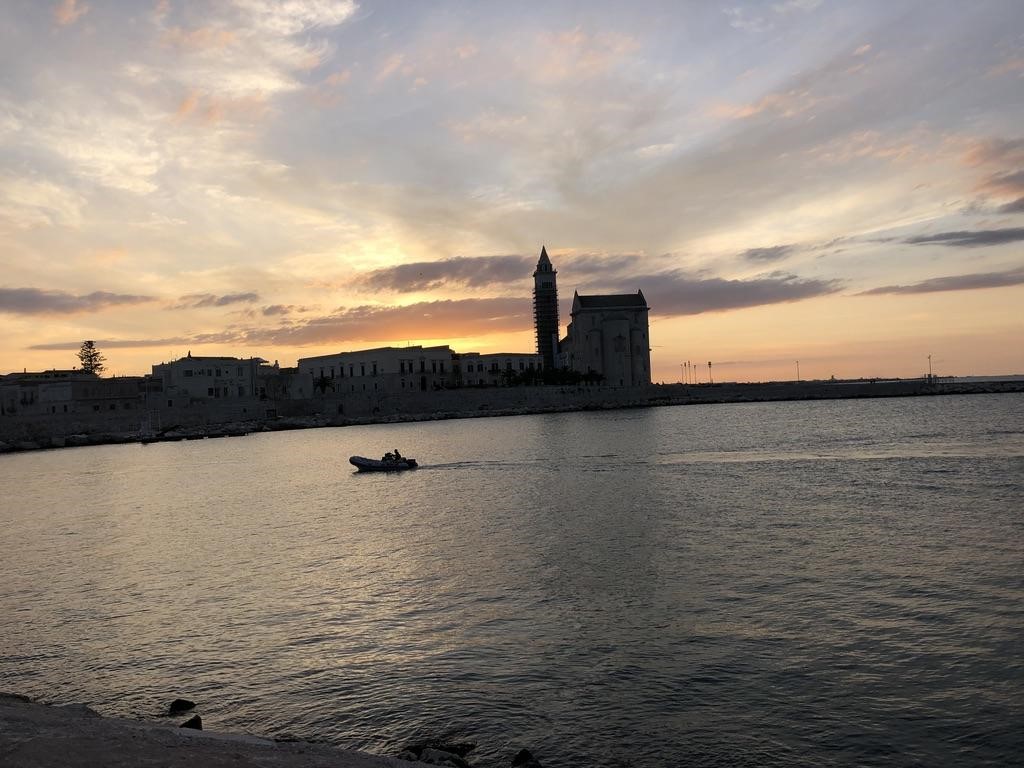 Okay, enough romanticising, let's get to the hard facts… (even if everything above is also true). More positive clichés about Italy that should come true in the coming months:
Hospitality: We quickly found local friends in Trani with whom we stay almost every minute of our free time. After about a week into knowing them, they already invited us to eat with their family without further ado, which continued to happen on a regular basis. We were even invited for the Christmas holidays as we could not go home due to travel restrictions. An advantage of having Italian friends is that you get used to speaking Italian with them, which is the best practice you can have for improving foreign languages.
Food: Italy is famous for its good cuisine and especially in Apulia there is always more than enough to eat. Even for me as a vegetarian, there is plenty of choices and I am taken into consideration when eating at others or going out. In addition, in a kind of personal case study, I figured out that it is basically impossible to leave someone's house without being given something to eat.
Weather: When you think of the south of Italy you also imagine good weather and the sea. This is true for autumn, spring and summer, but winters are still getting pretty cold as wind and sea have quite a chilling effect. Anyway, as we made the plan for 2021 to take a bath at least once a month, we started going to the sea in January. Now with the summer in arrival, we are looking forward to burning sun days, but also warm evenings to spend with our friends.
All in all, I can say, living here is beautiful!
The project
In general, the project aims to promote social inclusion for people with mental disabilities. Concretely, our work consists of a number of different activities. For example, twice a week I do a workshop with people affected by disabilities, aiming to teach them certain abilities, for example, rhythm or intercultural knowledge, at the Centro Jobel (a centre where people with disabilities spend their day). Because of Covid, however, it is hardly possible to do activities requiring closer human contact. Be it larger group activities or just a hug when someone needs some closeness/affection. Nevertheless, we have grown fond of each other and it is always great to see the sincere joy with which we are received each time.
Two other mornings a week we work with Francesco, a young Italian with Asperger's syndrome. Francesco is a really nice guy, passionate about Japan, Manga and Video games, but has some problems that are keeping him from living autonomously or taking up a job. Our task is to help him learn certain skills that could be useful to reach these goals. While working with him we are not his educators but basically his "friends at work", which is where the title of the project comes from.
In the afternoons, we work at Petit Pas, doing activities on the European projects they take part in. These tasks consist of writing articles or creating Facebook Posts regarding the topics of the projects or sometimes taking part in online events or creating formative material.
I really like the project because the many different activities make the project very varied and interesting. I am learning a lot of new things and we also have the possibility to include personal ideas and projects in the activities. A downside could be that with many activities it takes more time to find your role and that progress is usually only seen after a longer period of time. But since the project is ten months long this wasn't really a problem.
Covid-19
Of course, our project, like almost everything else, was affected by Covid. For most of the time, we couldn't even travel to nearby cities, so we haven't seen as much of Italy and especially Puglia as we normally would have. Also going out with friends wasn't possible as used to, but we found other things to do inside the possibilities we had. Also, bigger group events that in other times would have been part of our experience obviously couldn't take place. Part of our Covid experience were also two quarantines we had to do, where we tried to carry out our activities online as much as possible, which made them a lot more difficult. Fortunately, the situation is getting better now, so that we went to Rome two weeks ago and will get to visit some other cities too.
Personal conclusion:
I am very happy about having taken the decision to live this experience with the ESC because you can help people with their problems, you learn a lot of new skills like the language, but also abilities you might need for your professional future, as well as things about yourself and you make new friends from other countries and learn about them and from their experiences.
I can recommend everyone to take part in such a project, as you will grow as a person, also if right now they might be unsure if they're ready!